Four Economic Topics for Studies of Antiquity
Agriculture, trade, population, and the behaviour of aggregate economies - S3018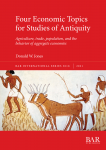 In this book Donald W. Jones presents a framework for how to approach four important topics that have held the attention of historians and archaeologists for decades. He offers intuitive but rigorous introductions to the contemporary economic theory and modelling dealing with agriculture, international trade, populations, and the behaviour of aggregate economies. Familiarity with these models can offer nuanced insights into ancient economic behaviour in data-poor as well as data-rich environments. Each chapter presents case studies from the literature of antiquity demonstrating how this could work and offering suggestions of topics where these models could be fruitfully explored.

AUTHOR
Donald W. Jones is an economist with academic, national laboratory, and private sector experience. He has published in Bronze and Early Iron Age archaeology of the Aegean and eastern Mediterranean. He is an adjunct professor of Classics at the University of Tennessee and teaches environmental economics at Loyola University Chicago.

REVIEW
"Donald W. Jones provides a useful economic "toolbox" whereby these economies can be profitably studied. This is likely to be of interest to those working on traditional societies, especially in antiquity, regardless of the geographical specifics of their pursuits". Professor Michael Decker, University of South Florida

F.to A4, 272 pages, Illustrated throughout in black and white. 6 tables, 104 figures.
---